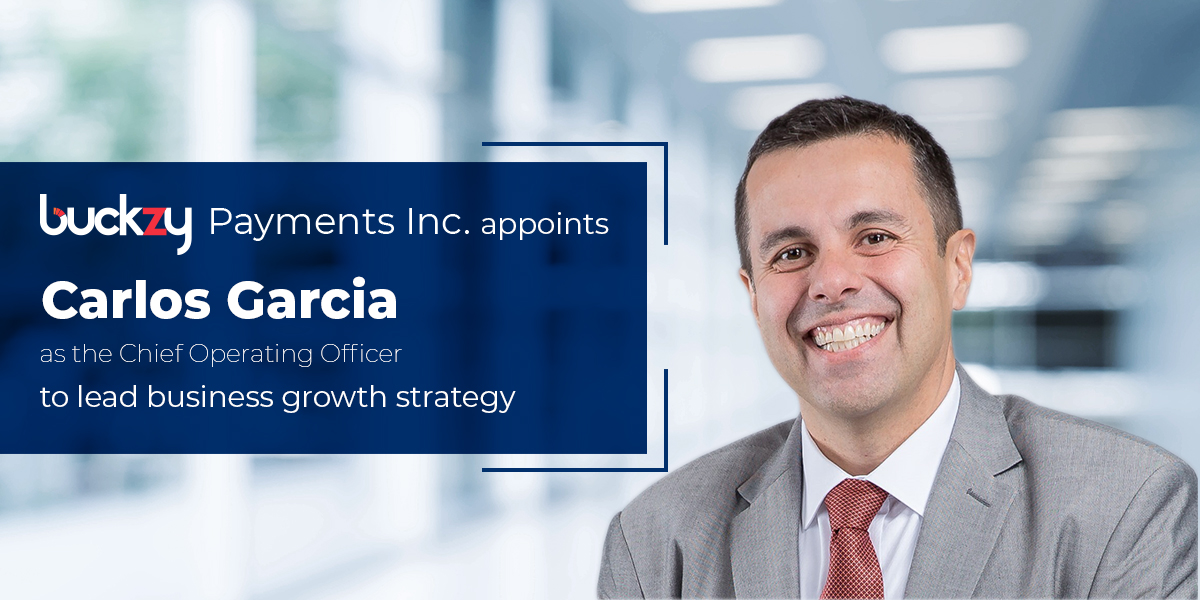 Buckzy Payments Inc. appoints Carlos Garcia as Chief Operating Officer to lead business growth strategy - Buckzy Payments Inc.
The appointment further solidifies the Toronto-based Fintech's determination to become a leading provider of real-time cross border payments
Innovative Canadian Fintech Buckzy Payments Inc, has announced the appointment of Carlos Garcia as its Chief Operating Officer. Buckzy's mission is to offer global customers a one-stop financial solution, making international payments faster, more reliable, and more cost effective.
As former Vice President, Technology Delivery Services for the Americas and Europe at Western Union, Carlos' in-depth financial experience and leadership capabilities will allow Buckzy Payments Inc. to execute its growth strategy and fulfil its ambition to become the world leader in real-time cross border payments.
Carlos has extensive leadership experience in financial services, banking, and cross-border payments industries, including Deloitte. Most recently, he held the position of Chief of Payments Operations at NanoPay, the global payments technology company.
Abdul Naushad, CEO of Buckzy Payments Inc. commented on the appointment: "With this position, Carlos holds a highly strategic role at Buckzy and will be responsible for Buckzy's payments and banking operations with a focus on delivering a world-class customer experience."
"Carlos will drive operational strategy and planning, including treasury/FX systems and procedures so that the company can successfully achieve its end-to-end execution and oversight. Along with building and strengthening Buckzy's global banking network, he will be responsible for establishing licensing to drive global expansion and implementing other strategic initiatives in close collaboration with Buckzy's executive team."
Carlos Garcia commented: "Buckzy Payments is driving the next generation of global payments. It's really exciting to work in an environment that is passionate about innovation on how to move money globally in a way that is fast, safe, cost-effective and compliant for customers worldwide."
Notes to editors
ABOUT Buckzy Payments Inc.
Buckzy Payments Inc. is a cross-border payments network and embedded finance platform enabler for leading financial institutions and fintechs worldwide, delivering a modernized and proprietary real-time cross-border payment settlement network.
This press release may contain forward-looking statements that involve risks, uncertainties, and assumptions. All statements other than statements of historical fact could be deemed forward-looking statements, including any projections of revenues, gross margins, earnings, or other financial items; statements regarding strategies or plans for future operations; statements concerning new features, enhancements, or upgrades to our existing applications or plans for future applications; statements relating to the expected performance or benefits of our offerings; statements about current or future economic conditions or related regulatory governance; and any other statements of expectation or belief.
Buckzy Payments Inc. assumes no obligation for, and does not intend to update, any forward-looking statements.
Any unreleased services, features, functionality, or enhancements referenced in a Buckzy document, roadmap, blog, website, press release, or public statement that are not currently available are subject to change at Buckzy's discretion and may not be delivered as planned or at all. Customers who purchase our applications should make their purchase decisions based upon features and functions that are currently available.